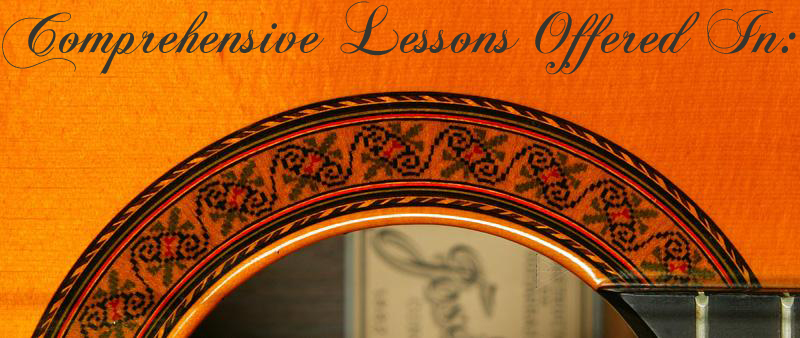 ---
Classical Guitar
Careful assessment is given to each student in order to develop a customized Classical Guitar Lesson Plan that will produce the greatest result. The lessons are tailored to the goals, levels, and needs of each individual. My teaching style is always presented to achieve a relaxed and enjoyable atmosphere for the student while maintaining a high level of guitar study.
Comprehensive and Detailed instruction in all Classical Guitar Techniques.

Perfecting Classical Guitar Articulation and Resonance.

Training in Developing Fine Motor Skills, Maximum Flexibility, Economy of Motion; resulting in Flowing and Seamless Classical Guitar Playing Ability through Gradually Structured Exercises.

Repertoire Interpretation and Expression. (see below: Fine guitar playing is more than just playing the correct notes)

Develop Fretboard Visualization and Sight-Reading Competence. (See below: The music I provide to students).

Classical Guitar Theory as it relates to the Understanding and Performance of Classical Guitar Compositions.

Guidance in the Time Management of Student Practice.
Baroque Guitar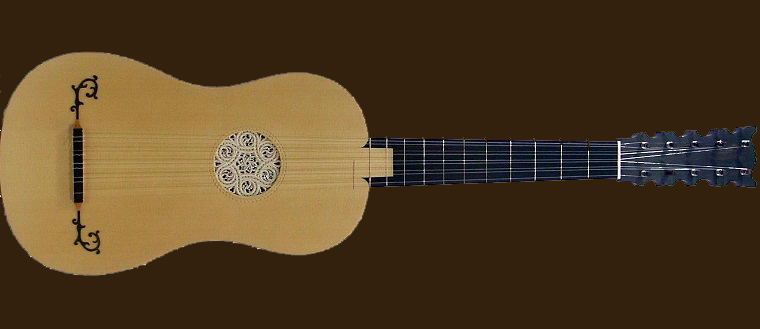 If desired, in addition to the Pedagogical Methods for teaching Standard Classical Guitar. Lessons can include the following for those interested in performing accurate Early Guitar music.
Renaissance/Baroque; Right Hand Thumb-Under and Punteado ("plucked") styles.

5 string (course) baroque guitar compositions.

Scordatura (Alternate tunings) including the Lute.

Reading Early Music Tablatures.
---
Flamenco Guitar
My Flamenco Guitar Teaching Method, based on the level of the student, is Authentic and Effective. Utilizing the traditional Flamenco Guitar teaching process, students listen and observe demonstrated, repeated step-by-step examples, watching every movement on the guitar. Students then repeat those movements to produce the same technique and sound. It is a gauged process that builds mastery of the Flamenco guitar. I also provide transcriptions in Standard Notation and Tablature of established pieces and Falsetas from the great masters of Flamenco Guitar for beginner to advanced level study, so students will have a hard copy of what was covered during the lesson.
Instruction in Authentic Traditional Flamenco Guitar.

Learn all Flamenco Right Hand Techniques including: Rasgueado Pulgar Golpe Alzapua Picado Arpeggio Tremelo.

All Flamenco Left Hand Fingering Techniques.

Rigorous Training in all Flamenco Rhythms (Compas) and Flamenco Songs (Falsetas, Palos)
---
For students who cannot decide what style to perfect long term, or a desire to play both Classical and Flamenco Guitar:
While many take lessons with me for a specific style, please know, some students who study with me are both Classical and Flamenco Guitar Students. If you are interested in both or would like to try both in order to see what you prefer for long-term study, I will be glad to accommodate your interest in Classical and Flamenco in the same lesson. A customized Classical/Flamenco lesson plan will be developed for you to meet your needs.
---
Fine guitar playing is more than just playing the correct notes:
In addition to superior Classical and Flamenco Guitar Lessons, I am well versed in the rich history of the music, guitar, composers, and cultural influences of the music being taught. I impart to the student interested in learning accurate period performance, well-rounded instruction for the proper interpretation, articulation, and expression when performing on the Guitar. The student going forward will have the understanding and skills of how various compositions should be performed in the proper style of the period: Early Lute and Baroque Guitar technique through Modern Classical Guitar technique.
---
The music I provide to students:
Learning Standard Notation for the Classical Guitar can be overwhelming, especially for students with little or no musical background who are studying this type of Guitar as a leisure pursuit. Learning the entire fretboard using Tablature Notation in conjunction with Standard Notation will facilitate playing the full range of the Guitar. The origin of Tablature can be traced back to the 15th century and is older than Standard Notation for fretted string instruments. Tablature is the recognized methodology for professional-level Early Music Guitarists and Lutenists. Tablature Notation can be an effective alternative to the discipline of learning Standard Notation. Tablature will allow a student the ability to play more difficult pieces and a greater amount of music than would be possible struggling through Standard Notation.
I provide all sheet music with Standard and Tablature Notation on the same page, from simple to the most complex music written for the guitar.
As shown in the example below the Standard Notation has the time signature and note values. The bottom Tablature has the string and fret.
Benefits of Tablature:
Unlike Standard Notation, tablature is a graphic display of what string and fret to press.

Unlike a piano keyboard, the guitar produces the very same note in several places on the fretboard.

Learning to sight-read the entire guitar fretboard in a much faster time frame.

When playing in different or changing keys.

Alternate guitar tunings (Scordatura) when not adjusted in the standard notation for the regular guitar tuning.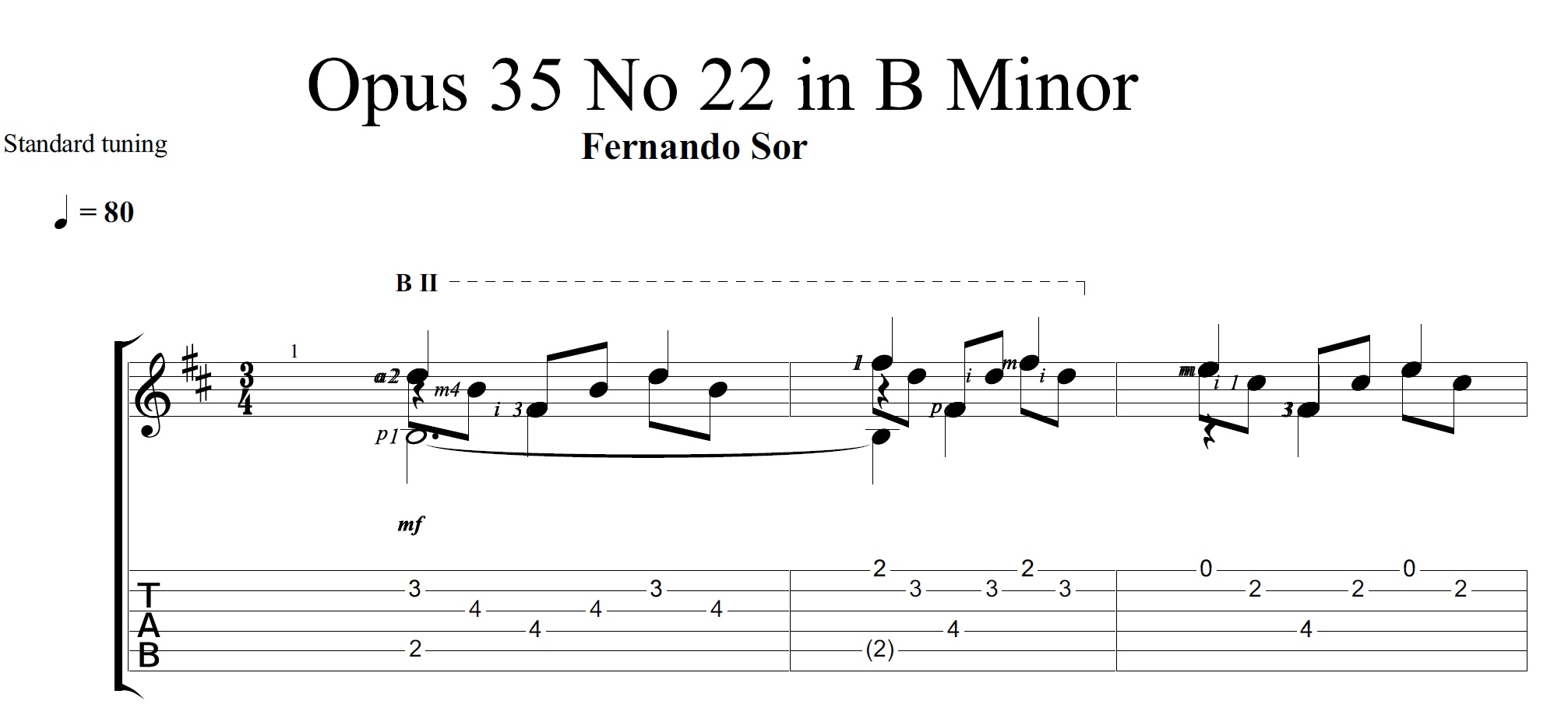 ---
Cost-Effective:
Given my specialized expertise in classical guitar performance and extensive experience teaching Classical and Flamenco guitar, the rate for a full-hour lesson is extremely reasonable. My fee for a one-hour lesson is less than many guitar teachers charge for just general popular music guitar lessons.
Additionally, I charge at reduced rates because no studio or office rental fees are passed on to you.
---
Additional Lesson Details:
I do not impose contracts. Unlike some music studios and teachers, I gain long-term students by offering dependable comprehensive teaching at very reasonable rates.

I do not require advance payment for monthly lesson blocks or other time frames. Payment is Due at the End of Every Lesson.

I do not charge for cancellations. I am very understanding of other

commitments

and problems a student may have from time to time. I realize that due to a variety of reasons, students may not be available for a lesson.

No need to buy method books or music, I provide all lesson literature and sheet music at no extra charge.
All you need is a Nylon String Classical or Flamenco Guitar and a desire to learn.